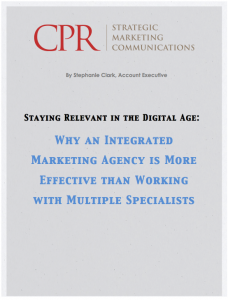 Staying Relevant in the Digital Age: Why an Integrated Marketing Agency is More Effective than Working with Multiple Specialists
The growth of interactive marketing has splintered the public relations (PR) landscape in the last few years, leaving a number of companies wondering which way to turn: hire a single traditional agency or three or four agencies that specialize in different areas, such as brochure creation, HTML newsletters, PR or advertising. Download to read more.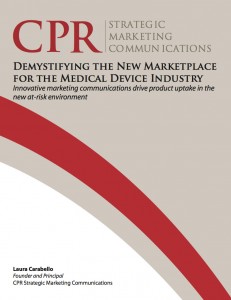 Demystifying the New Marketplace
From 2007 to 2009, R&D investment in medical devices increased by nine percent, positioning the industry as a key driver for current and future U.S. economic growth.1 In the wake of healthcare reforms, however, several key factors now redefine the medical device industry: a slow and cumbersome regulatory system, lower prices, greater risk and increasing lifespans. In this environment, medical device manufacturers must become more innovative in substantiating and communicating their messages in the context of these trends. As the definition of payers and at-risk entities changes, and their struggle to sustain or reduce healthcare expenditures increases, there is greater focus across the healthcare continuum to move towards the total cost of treatment, preventive healthcare programs and patient outcomes vs. traditional fee-for-service arrangements and "sick care." Download to read more.