Prior to the XXII Olympic Winter Games, the first few weeks at Sochi haven't been very flattering to say the least.  On Twitter, Journalists voiced their displeasure by detailing their experiences with unfinished hotels and weird bathroom layouts. One thing that stood out the most was the abundance of stray dogs that lived in Sochi. The stray dogs that roam around in Sochi have gained the world's attention. From mixes of Dachshunds to Labrador Retrievers, these dogs can be found everywhere in Sochi. In the opening ceremony, a dog actually went inside the stadium and caught the opening act before being chased out by volunteers. To some people they seem to be the unofficial mascots of the Olympics due to their friendly and fuzzy nature. However, the futures of these canines were in question.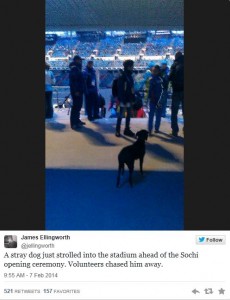 Pest groups in the area were hired and contracted to kill the Sochi stray's by poisoning them. This caused outrage by animal lovers around the world. Pest control companies said they were hired to rid Sochi of the strays because they didn't want the city to have a negative reputation. The interesting thing is that many of the people don't mind these friendly animals. Some people try to pet them, feed them or even give them names. One dog was named "Sausage" by some of the people that worked in the media center hotel. The reaction toward the dogs are actually the opposite of what Russian officials thought was going to happen. The reports of these "dog extermination squads" have actually damaged Sochi's reputation more than the dogs did.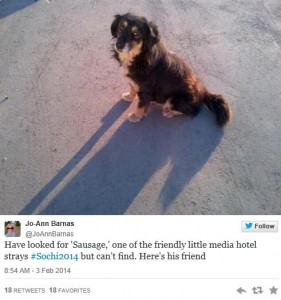 For one I am happy that the people don't seem to mind man's best friend. They seem to enjoy the Olympics with us around. Also, what is two weeks with some hairy friends going to do? With the world's eyes fixated on the Winter Games and our hearts stolen by these critters, it looks like the strays are here to stay.