By Michelle Procida, Public Relations Assistant
Summer is one of my favorite eating seasons, especially since fall and winter mean weeks of filling, holiday feasting. Luckily, summer foods seem to provide a bunch of healthier eating options than other seasons.  Here are some yummy summer foods that are great for your body!
Cherries:
A deliciously healthy option to reach for when a sweet-craving kicks in. This little fruit is a big cancer-fighter. The cherry, one of the super-fruits, is an excellent antioxidant, packed with fiber and Vitamins C and E.  It's also said to be a great brain food, as it protects the brain from memory loss.
Grilled Vegetables:
Swap starchy side-dishes with for an easy, healthier replacement. Cut up red peppers, green peppers and zucchini into strips and then pop cherry tomatoes onto skewers. Top with a little olive oil or seasoning and place them right on the grill. These quick grilled vegetables go great with most meals- especially as a side to any chicken dish.
TIP- Soak wooden skewers in water overnight before placing them on the grill. This will prevent the skewers from burning.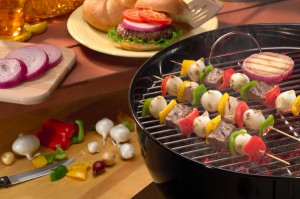 Watermelon:
Of course, one of the most craved summer fruits. While most people think this fruit is mainly water and sugar, it's actually packed with Vitamins A and C and tastes sweet enough to replace sugary, processed snacks.
Grilling Meats:
While you'll want to indulge in a juicy burger once in a while, cooking it on the grill is a much healthier option. Rather than soaking in its own fat in a frying pan, the grill allows excess fat and grease to fall away, leaving you with a much healthier option. Bonus points for soaking up a little Vitamin D while waiting outside for that burger to finish cooking!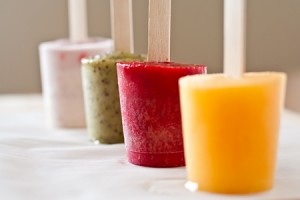 Ice Pops:
Not the usual sugared-up ones though. Instead, take your favorite 100% juice and pour into paper cups, adding a Popsicle stick before placing it in the freezer. Orange juice pops, cranberry juice pops, plenty of healthy options to choose from! Cut up tiny pieces fresh fruit and add it to the mix prior to freezing for an extra fruity kick.