By Melissa Healion, Public Relations Assistant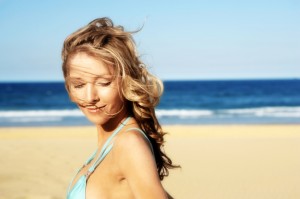 The hot temperatures of the summer months can be unbearable. However, that is no reason why you should have to sacrifice your beauty! I have compiled a list of my favorite beauty tips so that you can maintain your cool, calm and collected look no matter how hot and humid things get.
Prime. Using primer is a great way to keep your makeup in place throughout the day and also reduce unwanted shine. It is best applied after your SPF and moisturizer. It is important you allow for it to completely dry before applying your makeup.
Liquid Love. While pencil liners are great, a good waterproof liquid liner won't smudge or run when things get hot (or wet).
Scrub and Soothe. To get your feet sandal ready, give them a scrub in the shower and then slather them with lotion afterward. Next, slip your feet into a pair of cotton socks and hit the hay. When you wake up, your feet will be soft as a baby's bottom and ready for their close up. 
Ditch the Dryer. Summer is a great time to allow for your strands to air-dry, especially since it is typically a dry season. But if you truly cannot resist blow drying your hair, do not do it in the bathroom right after you have showered. For a super sleek summer blowout, head into another (dry) room and dry your hair there.
Smooth Shave. After shaving your legs, use an alcohol-free lotion to avoid razor burn and irritation. 
Cool Down. Taking a cold shower has a multitude of benefits. For instance cold showers will make your hair extra shiny and your skin extra smooth, unlike hot showers which tend to dehydrate your hair and skin. 
Skip the Salon. This summer, instead of heading to the salon to get your hair highlighted, do it naturally. Simple household ingredients such as lemons, olive oil, chamomile tea, honey, and light colored beer can give you beautiful sun-highlighted hair in no time. Also, to prevent your hair from turning an unpleasant shade of green apply baby oil, olive oil, or coconut oil after a dip in chlorinated water.
Lighten Up. Always remember that during the summer, less is more! So resist the urge to apply heavy foundations and allow for your natural glow to shine through. Lip -glosses, tints and balms are also a summertime favorite of mine; it is especially great if you can find one containing SPF!
De-puff. After a day spent in the sun, you will most likely find yourself with a major case of puffy eyes the next morning. To reduce puffiness, slice up a few refrigerated potatoes, soak them in water for a moment or two and then place them over your lids for 15 minutes. 
Do you have any summertime secrets? If so, please share them in the comments below!