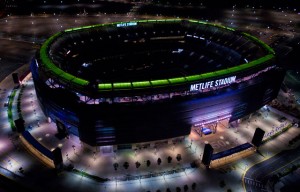 Stadiums across the nation are using solar panels to save not only on their electricity bill, but to help the environment too. The concept of renewable energy has emerged even for the cold and cloudy weather cities such as Cleveland, Pittsburgh, and Seattle. These upgrades may power the stadium's general needs, decorative stadium lighting, and charging stations for electric vehicles.
NFL's MetLife Stadium, home of the NY Jets and Giants, installed 1,350 solar panels that produce 350,000 kilowatt hours of energy. On game days, this provides 10 percent of the energy requirement. On top of the stadium there is a ring of that is light up blue or green, depending on the team playing that night, which shines from solar energy. These panels create 25 times the power necessary for LED lights at the stadium.
David Crane, chief executive officer of NRG Energy, explained how the ring on MetLife looks extremely impressive from outside the stadium. Crane also stated how the cost of solar panels have decreased, which makes it more cost efficient for companies. Even so, regular installation of solar panels on a solid plain are less expensive than a sophisticated design that MetLife chose. NRG Energy has high hopes that MetLife will allow them to continue with the future installation of electric car charging stations and even more solar panels.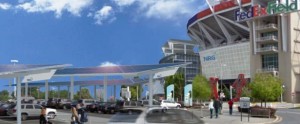 Across the nation, numerous teams are investing in solar energy. Commissioners from Major League Baseball, the National Basketball Association, the National Football League, the National Hockey League, and Major League Soccer are all encouraging teams to use solar power at facilities. Advancement of clean energy is not only beneficial for the organization; it makes fans proud to be a part of a team that is making healthy choices for the environment.
Here's a sampling of stadiums utilizing solar energy:
–        Washington Redskin's FedEx Field in Landover, MD  – 8,000 panels
–        New England Patriots Gilette Field in Foxboro, MA  – 3,000  panels
–        Staples Center in Los Angeles, CA – 1,727 panels
–        US Airways Center in Phoenix, AZ – 1,125 panels
–        Lincoln Financial Field in Philadelphia, PA – 2,500 panels
–        Diamondback's Chase Field in Phoenix, AZ  – 75 kilowatt solar structure
–        Seahawks & Mariners at CenturyLink Field in Seattle, WA – 3,750 panels
–        Nascar Pocono Raceway in Long Pond, PA – 39,960 panels
–        Giant's AT&T Park in San Francisco, CA  – 600  panels