Seasonal DIY Ideas
By Alyssa Lecaros
DIY Peppermint Body Scrub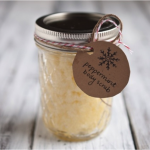 After finishing up your holiday cooking and baking, why not spoil yourself with a little spa treatment? Instead of going out and spending a ton of money, you can create a festive Peppermint Body Scrub all on your own!
Ingredients:
1 cup sugar
½ cup coconut oil
2-3 drops peppermint essential oil
1 tbsp vitamin E oil
First, melt the coconut oil in the microwave. This should only take a few seconds. (If you store your coconut oil in a warm place, it is likely already melted.) Next, add in peppermint essential oil, vitamin E oil, and sugar. Stir until well combined. Finally, store in desired jar – maybe a decorated holiday one! – and your DIY Peppermint Body Scrub is complete.
DIY Peppermint Body Butter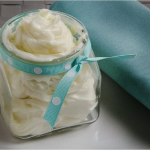 While you're on a roll creating your own Peppermint Body Scrub, you can also make your own Peppermint Body Butter. After exfoliating with the scrub, the butter will keep your skin smooth and hydrated. (This can also be a great gift idea if you're stumped on what to buy your co-workers for Secret Santa!)
Ingredients:
6 oz coconut oil
2 oz cocoa butter
2-3 drops peppermint essential oil
First, place the coconut oil and cocoa butter in a medium sized pot over low heat. Stir to combine until completely melted, and then remove from heat. Place in refrigerator until oils appear opaque. Next, use a stand or hand mixer to whip – the oils will get creamy fast. Once creamy, refrigerate for five minutes, and then continue to whip again. Lastly, add in peppermint essential oils, and whip until you get stiff peaks. Scoop into preferred jar and your DIY Peppermint Body Butter is done!