Saint Patrick's Day Recipe Galore!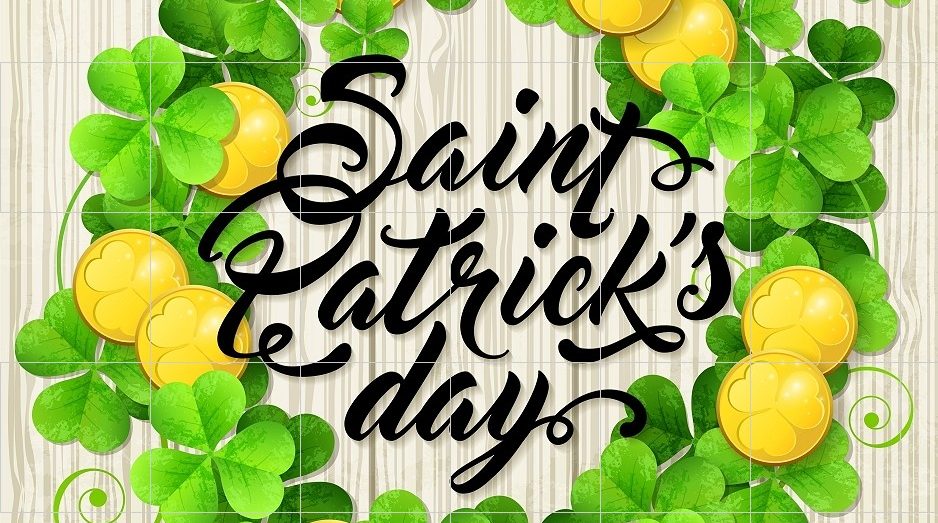 With Saint Patrick's Day just around the corner, here are some fun and easy-to-make food and drink recipes to make the holiday a little more festive:
Start the day with this classic Irish Bread.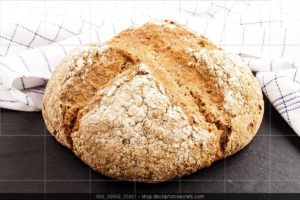 Irish Soda Bread
Quick & Easy Recipe
Ingredients:
½ cup white sugar                                     3 cups raisins
4 cups all-purpose flour                           1 tablespoon caraway seeds
2 teaspoons baking powder                     2 eggs, lightly beaten
1 teaspoon baking soda                          1 ¼ cups buttermilk
¾ teaspoon salt                                           1 cup sour cream
Directions:
Preheat oven to 350 degrees F (175 degrees C). Grease a 9-inch round cast iron skillet or a 9-inch round baking or cake pan.
In a mixing bowl, combine flour (reserving 1 tablespoon), sugar, baking powder, baking soda, salt, raisins and caraway seeds. In a small bowl, blend eggs, buttermilk and sour cream. Stir the liquid mixture into flour mixture just until flour is moistened. Knead dough in bowl about 10 to 12 strokes. Dough will be sticky. Place the dough in the prepared skillet or pan and pat down. Cut a 4×3/4-inch-deep slit in the top of the bread. Dust with reserved flour
Bake in a preheated 350 degrees F (175 degrees C) oven for 65 to 75 minutes. Let cool and turn bread onto a wire rack.
Recipe Credit: allrecipes.com
It's not St. Patrick's Day without a cocktail in hand!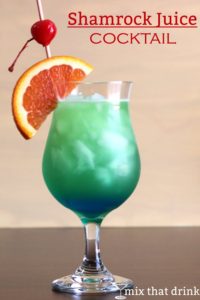 Shamrock Juice
Green, green, give me more green! – Let this cocktail do all the talking
Recipe:
½ ounce gin
½ ounce white tequila
½ ounce light rum
½ ounce vodka
1-ounce Blue Curacao
4 ounces fresh squeeze orange juice
Recipe Credit: mixthatdrink.com
Try a new take on a traditional meal.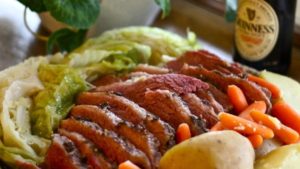 Corned Beef & Cabbage
Make this dish in less than an hour!
Ingredients:
6 slices bacon                                     1 tsp. black pepper
1 onion (chopped)                             4 potatoes (russet, cubed)
4 cloves garlic (minced)                   1 bag baby carrots
1 bay leaf                                             1 green cabbage (cut into eighths)
3 cups water                                       6 1/2-inch slices cooked corned beef
Directions:
In a large and heavy stockpot, cook the bacon until browned and crisp. Remove bacon to a piece of paper towel to drain; crumble and reserve.
To drippings remaining in the skillet, add the onion and garlic and sauté until tender, about 5-6 minutes. Add beef broth, bay leaf, and water and bring to a boil.
Add potatoes to pot; simmer for 10 minutes.
Then add the baby carrots and cabbage slices; cook for 5 minutes longer.
Add sliced corned beef and simmer for 10-15 minutes longer until cabbage and potatoes are tender and the beef is heated to 160°F as measured by a food thermometer.
Drain the pot, reserving onion, garlic, potatoes, carrots, cabbage, and corned beef; discard bay leaf. Arrange everything on a serving platter. Sprinkle with reserved bacon.
Serve beef with cabbage and potatoes, along with mustard on the side.
Photo &Recipe Credit: thespruce.com
What food or drinks are you making to celebrate this St. Patrick's Day? Leave a comment below to share the Luck of the Irish!