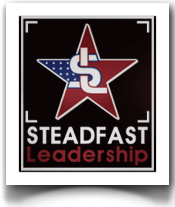 Media Contact:
Joelle Caputa
CPR Strategic Marketing Communications
jcaputa@cpronline.com
201-641-1911 x54
FOR IMMEDIATE RELEASE
Retired Brig. Gen. Becky Halstead Hires CPR Strategic Marketing Communications to Launch Public Relations Campaign for Leadership Book
Purchase "24/7: The First Person You Must Lead is YOU," available in paperback
and Kindle, January 2014 
Elmwood Park, N.J. — November 13, 2013 – Retired Brig. Gen. Becky Halstead, founder of STEADFAST Leadership, LLC, has appointed CPR Strategic Marketing Communications (CPR), a leader in strategic marketing communication for the healthcare, life sciences and technology industries, to launch a public relations campaign to promote her inspirational book, "24/7: The First Person You Must Lead is YOU," (January 2014).
"This book is the culmination of the leadership I learned and practiced over 27 years of military service," says Halstead. "I'm confident that CPR's committed team will guarantee my message of self-empowerment reaches the widest audience possible."
Halstead specializes in inspirational speaking, consulting and advising. In Iraq she led over 20,000 soldiers and 5,000 civilians, and commanded eight out of her last 11 years in the Army. She has achieved a number of historic milestones, including the first female Commanding General in combat at the strategic level and first female Chief of Ordnance (equivalent to president of a university).
Joseph Carabello, president and CEO, CPR, says, "Becky is a tower of inspiration and this book — her first — captures all the reasons why so many people worldwide regard her as a penultimate leader. She brings out the best in everyone and teaches us all how to lead ourselves."
About 24/7: The First Person You Must Lead is YOU
24/7: The First Person You Must Lead is YOU, authored by Rebecca "Becky" Halstead, retired Brigadier General, United States Army, inspires readers to first learn to lead themselves in order to lead others more effectively. Featuring her personal stories to illustrate leadership principles that transcend age, sex, race, and profession, Becky shares the journey that transformed and solidified her STEADFAST leadership philosophy, principles and definition.  She does so with humor and candor, engaging the hearts and minds of her readers, igniting them to desire to lead themselves better and stirring them to action.  Available in paperback and for Kindle. Visit: www.beckyhalstead.com, Facebook, Twitter and YouTube.
About CPR Strategic Marketing Communications
CPR creates powerful, integrated, strategic marketing and communications plans for today's aggressive media world. Our proactive campaigns launch products and services, attract clients and elevate awareness, filtering external factors, identifying internal forces and unleashing our clients' full potential. Headquartered in Elmwood Park, N.J., CPR has served publicly traded companies, privately held entities and not-for-profit organizations since 1981. Visit www.cpronline.com, Facebook, Twitter, LinkedIn, or e-mail pr@cpronline.com, or call 201-641-1911, ext. 50.