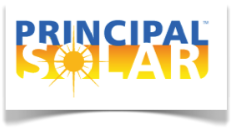 FOR IMMEDIATE RELEASE
Principal Solar, Inc. Launches Industry Resource:  Principal Solar Institute Provides Information and Guidance to Accelerate Mainstream Adoption of Solar
Matthew A. Thompson, Ph. D., distinguished scientist, named director
Dallas, TX – July 30,2012 — Principal Solar, Inc (PSI; OTC Pink: PSWW), a publicly traded solar energy holding company executing a unique roll-up strategy to create the world's first distributed solar utility, today launched The Principal Solar Institute, an online reference center and resource guide for solar development and installation professionals in the commercial and utility scale market. The Institute sponsors free educational events, offers a resource guide and publishes White Papers, disseminating critical information to advance the knowledge base of industry stakeholders.
Matthew A. Thompson, Ph. D., a scientist with 23 years experience in semiconductor process development and yield enhancement at Motorola and Freescale Semiconductor, has been appointed director of the Institute.
"The Institute is truly fortunate to welcome a scientist of Dr. Thompson's stature to the position of director," says Michael Gorton, chief executive officer and chairman of PSI. "His breadth of extensive scientific experience will provide valued leadership and direction, helping to drive the solar industry to greater levels of credibility and acceptance among US consumers."
At Motorola's Advanced Process Development Laboratory, Thompson developed vertical gate oxidation processes and equipment. In a collaborative research and development project that included Motorola and IBM, he designed synchrotron x-ray optics for deep submicron lithography, and supported x-ray mask design. Additionally, he developed computer algorithms for Complimentary Phase Shift Masks, leading to volume manufacture of products with 50 nm gates using 248 nm imaging tools. At Freescale Semiconductor, he worked to improve profitability and performance by development and deployment of Design for Manufacturability methodology. He earned a B.S. in Physics at Texas Tech University, and a Ph. D. in Physics at The University of Texas at Austin.
"Keeping solar professionals informed about new developments in technologies, finance structures and policies enables them to offer better, more valuable solutions to their customers," says Thompson. "By galvanizing the solar energy community – including policy makers and investors – The Principal Solar Institute will help the world acquire value from solar, the planet's most accessible and widely distributed energy source."
About Principal Solar
Principal Solar, Inc (PSI; OTC Pink: PSWW), is a publicly traded solar energy holding company executing a unique roll-up strategy to create the world's first distributed solar utility. PSI concentrates its resources on the acquisition, finance, development and management of solar power companies. The Principal Solar Institute, an educational organization created by Principal Solar, Inc., is dedicated to spreading solar knowledge to the critical stakeholders in the ongoing energy debate. Visit www.PrincipalSolar.com.
Cautionary Statement Regarding Forward-Looking Statements
Statements in this press release that are not statements of historical or current fact constitute "forward-looking statements."  Such forward-looking statements involve known and unknown risks, uncertainties and other unknown factors in the solar energy generating industry (market risk, government regulation, operational risks, etc.) that could cause the Company's actual operating results to be materially different from any historical results or from any future results expressed or implied by such forward-looking statements.   In addition to statements that explicitly describe these risks and uncertainties, readers are urged to consider statements that contain terms such as "believes," "belief," "expects," "expect," "intends," "intend," "anticipate," "anticipates," "plans," "plan," to be uncertain and forward-looking.  The Company does not assume a duty to update these forward-looking statements, except as required by law.
Contact:
CPR for Principal Solar, Inc.
Joelle Caputa
Jcaputa@cpronline.com
201.641.1911 x54