By Michelle Procida, Public Relations Assistant
With warm nights accompanied by summertime, one favorite display lights up the sky to celebrate BBQs and exciting holidays like the Fourth of July—fireworks. While these colorful flashes illuminate the sky just after dark, the dangers of fireworks are often forgotten.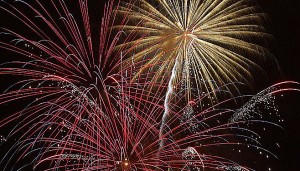 For some unlucky spectators, such as 6,000 Americans in 2009, their Fourth of July was spent in the emergency room due to firework-related injuries. Out of these patients, 1,600 of them suffered eye-related injuries. While lacerations and contusions made up most of these eye-injuries, some suffered permanent vision loss. Within the last ten years, firework-related injuries have fluctuated between 6,000 and 10,800 per year, an alarming number of injuries.
Entering the month of June, it is officially Fireworks Safety Month. Since July is most commonly known for its firework displays, Fireworks Safety Month has been instated to help prevent firework-related injuries that may ensue.  Prevent Blindness, an organization catering to preventative safety and awareness; works to ensure there are less eye injuries during this "firework season".
Prevent Blindness encourages a safe approach to enjoying fireworks this season. Only licensed operators should administer fireworks, to prevent them from flaring off in the wrong direction either causing injury or starting a fire. Burns may be dangerous, but the eyes are at a larger risk since they are exposed, allowing particles to easily come in contact with them.
Although it is common to see neighbors lighting up their own fireworks in their backyard for the night, the best prevention is to avoid these situations. Risks of injury are more common this way.
Prevent blindness this summer by safely enjoying fireworks! At CPR, we are always looking for ways to prevent any conflicts to your health. For other types of prevention, check out OralCDx, an oral brush test used to test for oral pre-cancer, or Life Gift Cards, the gift of life you can give for preventative checkups such as mammograms for breast cancer. The best protection is prevention!