Like most people, I can rarely find the motivation to complete high-intensity workouts on my own. That's why group fitness classes like Zumba and kickboxing have exploded over the last few years. In order to take full advantage of these one-hour sessions, I turn to Groupon for discounted packages at gyms and fitness studios near my town.
I recently purchased 10 fitness classes for $25 offering the usual variety of workouts – yoga, Pilates, boot camp, Zumba – but there was one class on the schedule that I was unfamiliar with. I decided to try it out over the weekend, and was amazed by how much fun I had burning so many calories!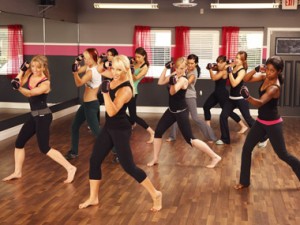 Piloxing is a fun, yet challenging combination of Pilates, boxing, and dance. This full-body workout burns fat and sculpts muscles while engaging your core in a fast-paced dance setting.
The workout begins with a quick warm-up that incorporates the flexibility of Pilates. As the music quickens, the instructor pumps her fists with weighted gloves, increasing the intensity of the workout and toning arms fast! Soon you are jabbing and salsa-ing your way back into shape.
The best thing about Piloxing is that you don't have to follow the instructor perfectly; just have fun and keep moving. After the cool-down, the workout ends with a choreographed chant: "we are sleek, we are sexy, and we are powerful!"
And that's exactly how you feel when you leave.