Out of Africa:  "Accidental Medical Traveler" on Safari
By Laura Carabello
Executive Editor & Publisher, Medical Travel Today and U.S. Domestic Medical Travel
Founder & Principal, CPR Communications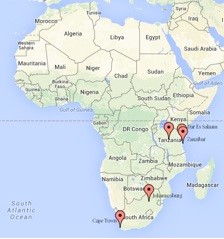 When a treasured friend invites you to his safari wedding at the Singita Saskwa Resort in Tanzania, Africa, is there any rational RSVP other than "I'm in!?"
The adventure began with an over-the-top experience spanning game and balloon rides on the Serengeti, fabulous meals and an African-style wedding replete with an interesting question to both bride and groom:  Do you wish to commit to a monogamous or polygamous relationship?
On the final day of the festivities, however, I had a scratchy throat and runny nose, but assumed it was just allergies. We headed for the airport to make our way to Cape Town, the final leg of our African trip – a journey involving flights through Dar Es Salaam, Zanzibar, and Johannesburg.  My condition worsened to a full-blown upper respiratory infection, and by the time we landed in Cape Town, I was barely breathing.
It's pretty scary being out of the U.S. and without easy access to medical care, but that's the plight of the "accidental medical traveler."  Thankfully, a call to our physician friend in Johannesburg pointed us to the Christiaan Barnard Memorial Hospital – a private hospital.*
"Go right from the airport to the Casualty Department and they will take good care of you," he suggested.  "It's not too far from your hotel (The Table Bay Hotel).
I thought to myself, "If this is anything like an ER in the U.S., I am in for a nightmare."
To my surprise and delight, however, this proved to be one of the best healthcare experiences on record. After a quick check-in at 11 pm where we agreed to a $76.00 doctor fee and a modest hospital charge of $175.00 – the RAND is very devalued these days – I was whisked into a private room where a technician took my vital signs and medical history.  All in English.  All high-tech equipment.
Within minutes, they escorted me to the "ER" where I was one of three (yes, 3) patients.  More history taking and vitals, but within 15 minutes, the doctor appeared. A South African-trained physician, he quickly assessed my condition — severe acute bronchitis — and prescribed nebulizer therapy and meds. He even suggested some sightseeing opportunities.  Everyone spoke English.
The next day, I filled the prescriptions at the local pharmacy including the following:
Solphyllex cough syrup
(2) Two, 5-dose packages of Tavaloxx 750 mg (Levofloxin; Levaquin)
(3) Additional 5-dose packages – just in case I needed them for further travel.
Total Cost of Meds:  $96.00
The bottom-line expenses, coupled with rapid access to high quality care, resulted in a good outcome for me personally and high patient satisfaction.  The entire visit, including wait time, was 1.5 hours.
This is clearly a BARGAIN by U.S. standards and put me on the road to recovery.  Knowing where to go for care is the key, and it always helps to have a friend in the healthcare system – wherever you travel.
I also learned a good lesson:  always travel with medications that may be needed and get some good medical contacts in the destination where you are traveling.
*Christiaan Barnard Memorial Hospital 
181 Longmarket Street
Cape Town 8001
South Africa
+27 21-480-6111
+27 21-480-6111
email: info@netcare.co.za
web: www.netcare.co.za/live/content.php?Item_ID=250
The Christiaan Barnard Memorial Hospital is based in Cape Town, South Africa, and is part of the Netcare Group of private hospitals. The Netcare Group is one of the largest private healthcare foundations in South Africa, and is trying to promote health tourism to the region, building on the already established regular tourism industry. The hospital is a large facility, possessing 247 beds and 14 theatres, and performs a wide and varied range of procedures.1,2 The hospital was the first in South Africa to perform a heart transplant and is a major destination for health tourists from all over the world.8
In 2001, this hospital was the first facility in the world to transplant an artificial Berlin heart into a patient, keeping him alive until a donor could be found.1 Christiaan Barnard Memorial Hospital is also a premier center for cardiac research, employing some of the foremost specialists in the world.1 It is a member of the International Heart and Lung Transplantation Society, which shares knowledge between some of the premier institutions in the world. The hospital also performs other types of transplant, having completed its 250th kidney transplant in 2005.8
The hospital does not appear to have its own website, instead taking up a section on the general Netcare site. Specific information is therefore a little lacking, but it does give a good general overview of the departments and facilities at the Hospital. There is not a lot of information for international patients, but South Africa is a very easy place to reach by regular flights and to find good quality hotels and guesthouses.9 In addition, some of the plastic surgeons based at the clinic have their own websites, which is full of useful links about plastic surgery as well as places to stay in and around Cape Town.2,4
Christiaan Barnard Memorial Hospital provides most of the procedures that would be expected in such a large facility serving a large city. These departments include; dentistry, dermatology, plastic surgery, general surgery, neurosurgery, orthopedics, pediatrics and a whole host of other procedures. As would be expected from the name, the hospital is a Centre of Excellence for cardiology and heart surgery, being amongst the foremost establishments in the world. From checkups to full open heart surgery and transplants, CBMH provides a full and complete range of cardiac procedures.1
The facility possesses some ultra-modern equipment, including a skin laser, Fresenius dialysis machine and state of the art operating theatres and technology, for performing transplants.1,2,5 The hospital also possesses a Ablatherm® HIFU ultrasound machine for the treatment of prostate cancer.5
There are a number of reviews and news items about Christiaan Barnard Memorial Hospital. Chelsy Davy, girlfriend of Prince Harry of the British Royal Family, had an emergency appendectomy there.3  The hospital also saved the life of the world's most premature baby, gently nursing it back to full health against all the odds.6 One reviewer, suffering from Multiple Sclerosis, was delighted with the care and attention spent by all the staff at this hospital.7
(1)    www.netcare.co.za
(2)    www.plasticsurgerysa.co.za
(3)    www.rexusa.com
(4)    www.plasticsurgeon.co.za/prac.htm
(5)    www.dialysis.co.za/cbmh.htm
(6)    www.dailymail.co.uk
(7)    www.hellopeter.com
(8)    www.transplant.netcare.co.za
(9)    www.lonelyplanet.com