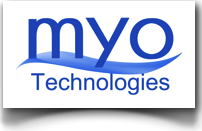 Media Contact:
CPR for Myo Technologies, LLC
Candice Varetoni
CVaretoni@cpronline.com
201-641-1911 x51
FOR IMMEDIATE RELEASE
October is Healthy Skin Month: Non-Invasive Microcurrent Skin Toning Treatment by Myo Technologies, LLC is Safer, More Natural-Looking than Surgery for Anti-Aging Skin Tightening and Rejuvenation
WILMINGTON, N.C. – October 3, 2012 – As part of Healthy Skin Month this October, Myo Technologies, LLC, provider of Myotonology®, the only U.S. patented, totally non-invasive microcurrent skin toning treatment, recommends microcurrent technology as a non-surgical approach to skin rejuvenation, anti-aging treatment and a means for speeding the healing process pre- and post-surgery.
"This October, the message we want to share with plastic surgeons, dermatologists, nurse practitioners, naturopathic practitioners, acupuncturists, and wellness professionals is that Myotonology® provides an excellent opportunity to give clients immediate and profound results, improving circulation, tone and, ultimately, self-esteem," says Elizabeth Logan, CEO of Myo Technologies, LLC. "Not only is the treatment affordable for patients, but it also represents an opportunity to look younger without pursuing a treatment that would be radically invasive or involve shots, anesthesia or scarring."
Logan adds, "In honor of Healthy Skin Month, complimentary Myotonology® demos will be available to all medical, skin care and wellness professionals, provided by our experienced and certified Myotonologists."
Myotonology® utilizes technology based upon microcurrent therapy to treat patients of Bell's Palsy and strokes. Documented results show increased circulation, collagen build-up, and greater oxygen supplies to the muscles. The treatment is comfortable and relaxing for patients, and includes Myo Essentials®, a complementary line of botanical skin care products available exclusively through professional offices.
Alison Carole, LE-CMT, a paramedical esthetician with almost 40 years in the field, enthusiastically endorses Myotonology®. "The Myotone® Med unit eclipses other microcurrent systems because it allows you to fine-tune for each area of the face, sculpting the dermis at deeper levels and enabling phenomenal results. Furthermore, this unit can provide toning and tightening effects, the results are remarkably quick and no healing time is required."
For more information about receiving a complimentary Myotonology® demo contact myo@myoinc.com or call 877.969.2811.
About Myo Technologies, LLC 
Myo Technologies, LLC developed Myotonology®, the only U.S. patented, microcurrent skin toning treatment, and Myo Essentials®, a hypoallergenic, botanical skin care product line. Produced exclusively in the U.S., the entire product line is designed for use in medical practices and wellness centers. Clients benefit from an affordable, non-surgical approach to skin rejuvenation with diminished scars, younger more toned and refreshed skin and pain management. Contact: www.MYOINC.com or 877.969.2811.
Follow us on Facebook: www.facebook.com/MyoTechnologies
Follow us on Twitter: @MyoTechnologies