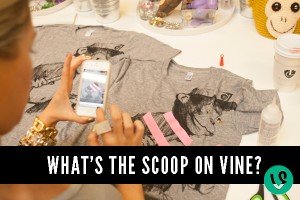 Vine is the newest addition to Apple's applications where you can share videos up to six seconds long. Big name companies are joining every day to stay up to date with the latest social media. Gap, Urban Outfitters, Armani, MTV, BBC, General Electric, among many others have been constantly updating their accounts for promotions, news, and holidays. Vine is following Twitter's actions by providing verification badges for these official, high profile users.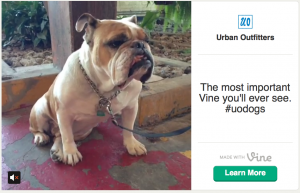 Brands have been using Twitter (to engage consumers) for an extended period of time now, but Vine allows them to show behind the scene footage, receive user generated content, and produce demos. Urban Outfitters posted two videos on Vine within 24 hours of its launch. They took upon the favorable approach by posting a dog video. A Turkish Journalist used Vine to record the terrorist attack on the U.S Embassy in February. As writers and journalists adjust to this new technology, it may be used for important moments and breaking news. A production company, Oscilloscope Laboratories, released a feature length film on the new application, where it will post a comedy called "It's A Disaster" six seconds at a time on Vine. Even Taco Bell, a restaurant, incorporated this new application to introduce its Cool Ranch Doritos Locos Tacos. 
Dan Kim, founder and chief concept officer of the frozen yogurt company Red Mango said, "While six seconds, in most cases, will not be enough time to communicate a traditional commercial message,  it does provide us with an opportunity to express our brand's personality or our products attributes in a way that is more captivating than a still image." Kim also added that having a time constraint inspires his company to be more imaginative and artistic. Because of this, it makes users understand the content immediately.
Restaurants with the capability to exhibit a new dish on their menu or to flaunt a celebrity in their eatery are great marketing advantages. The fashion industry is also having a positive impact by posting new collections, runway shows, and model shots from New York Fashion Week. BBC is even using Vine to show users how they have correspondents in major cities across the globe. As you can see, Vine welcomes businesses in all categories.
Vine's current goal is to maintain a level of simplicity, which is why no editing or filter options are available (yet). Decisions made during the creation process (before product launch) included the user being able to see and share life in motion. The creators, Dom Hofmann and Rus Yusupov, then designed for those necessities. Twitter released its new partnership with Vine this past January, which can be used only an Iphone, Ipad, or Ipod Touch. Any video can be found through a simple subject or hashtag search.