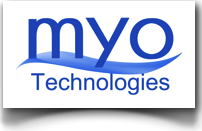 Media Contact:
CPR for Myo Technologies, LLC
Candice Varetoni
CVaretoni@cpronline.com
201-641-1911 x51

FOR IMMEDIATE RELEASE

Myo Technologies, LLC Introduces Non-Invasive Microcurrent Skin Toning Treatment and Botanical Skin Care Products for Medical Professional Use, Pre- and Post-Surgery
WILMINGTON, N.C. – September 05, 2012 – Myo Technologies, LLC today introduced Myotonology®, the only U.S. patented microcurrent skin toning treatment for use by plastic surgeons, dermatologists and other medical professionals in private practice settings, medical spas, hospital-based programs and medical gyms. This non-surgical approach to skin rejuvenation and anti-aging includes Myo Essentials®, a complementary line of botanical skin care products available exclusively through professional offices.
"Utilizing technology based upon microcurrent therapy to treat patients of Bell's Palsy and strokes, Myotonology® leads to a healthier appearance and a means for speeding the healing process pre- and post-surgery – with remarkably quick results," says Elizabeth Logan, CEO of Myo Technologies, LLC. "It provides an excellent alternative to invasive surgery, with documented results for increased circulation, collagen build-up, and greater oxygen supplies to the muscles."
Logan points to the treatment process as a significant revenue center for medical practices, with a model that delivers affordable care for patients while generating rapid return-on-investment for professionals.  Nurse practitioners, nurses, highly experienced estheticians or other healthcare professionals can take advantage of an on-site certified training program, consulting and technical support that are included with the purchase of a Myotone® Med unit.
"This creates opportunities for professionals to extend their capabilities and better serve patient needs," adds Logan.  "Myo Essentials®, a complementary line of professional botanical skin care products, offers additional practice enhancements, extending patient loyalty and fulfilling their requirements for appropriate follow-up care."
Training involves an intense, hands-on, six- to eight-hour course designed to familiarize users with the precise techniques of the system. Each participant receives a certificate of completion and the option to take additional advanced training courses.
Currently, the system is being used in multiple sites nationwide. Produced by an FDA-approved U.S. manufacturer, each portable, high quality, easy-to-use Myotone® Med unit carries a three-year warranty, free loaner service and customer support to optimize patient results..
"Myotonology® provides physicians and other professionals the opportunity to give clients immediate and profound results, improving circulation, tone, and ultimately, self-esteem," says Logan. "This treatment is affordable for patients and represents an opportunity to look younger without pursuing a treatment that would be radically invasive or involve shots, anesthesia, healing time or scarring."
For more information about Myo Technologies, LLC, contact myo@myoinc.com or call 877.969.2811.
About Myo Technologies, LLC 
Myo Technologies, LLC developed Myotonology®, the only U.S. patented, microcurrent skin toning treatment, and Myo Essentials®, a hypoallergenic, botanical skin care product line. Produced exclusively in the U.S., the entire product line is designed for use in medical practices and wellness centers. Clients benefit from an affordable, non-surgical approach to skin rejuvenation with diminished scars, younger more toned and refreshed skin and pain management. Contact: www.MYOINC.com or 877.969.2811.