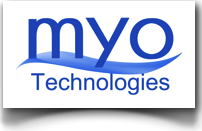 Media Contact:
CPR for Myo Med, LLC
Joelle Caputa
JCaputa@cpronline.com
201-641-1911 x54

FOR IMMEDIATE RELEASE

Myo Technologies Hires CPR Strategic Marketing Communications to Advance Market Position of Only U.S. Patented Microcurrent Skin Toning System
WILMINGTON, N.C. / ELMWOOD PARK, N.J. – September 12, 2012 – Myo Technologies, LLC, provider of Myotonology®, the only U.S. patented microcurrent skin toning system, has chosen CPR Strategic Marketing Communications (CPR) to implement a full-scale marketing communications program for its microcurrent product for use by plastic surgeons, dermatologists and other medical professionals in private practice settings, medical spas, hospital-based programs and medical gyms.
"This treatment process will be a valuable enhancement for medical practices and healthcare professionals, delivering affordable care for patients and ROI for professionals who offer the treatment," says Elizabeth Logan, CEO of Myo Technologies. "CPR's extensive expertise in this field will help us to impact the world of professional skin care."
Myotonology® is based upon microcurrent therapy to treat patients of Bell's Palsy and strokes, leading to a healthier appearance and a means for speeding the healing process pre- and post-surgery. This affordable treatment provides an opportunity for patients to look younger without pursuing a treatment that would be radically invasive or involve shots, anesthesia, healing time or scarring.
"Myotonology® provides physicians and other professionals the opportunity to give clients immediate and profound results," says Joseph Carabello, president and CEO, CPR Strategic Marketing Communications. "We look forward to helping Myo Technologies bring this extraordinary skin rejuvenation process to a wider audience."
About CPR Strategic Marketing Communications
CPR creates powerful, integrated, strategic marketing and communications plans for today's aggressive media world. We understand how communications can support organizational goals and our team listens and works cooperatively to define problems and opportunities in both the long and short terms. CPR empowers messages for defined audiences to launch products and services, attract clients and elevate awareness. Our proactive campaigns filter external factors, identify internal forces and unleash potential for domestic and international companies of all sizes, emerging and established, complex and simplistic. Headquartered in Elmwood Park, N.J., CPR has applied proven, prioritized principles of communications and marketing for publicly traded companies, privately held entities and not-for-profit organizations since 1981. Visit www.cpronline.com, e-mail pr@cpronline.com, or call 201-641-1911, ext. 50.
About Myo Technologies, LLC 
Myo Technologies, LLC developed Myotonology®, the only U.S. patented, microcurrent skin toning treatment, and Myo Essentials®, a hypoallergenic, botanical skin care product line. Produced exclusively in the U.S., the entire product line is designed for use in medical practices and wellness centers. Clients benefit from an affordable, non-surgical approach to skin rejuvenation with diminished scars, younger more toned and refreshed skin and pain management. Contact: www.MYOINC.com or 877.969.2811.