Medikey™, Empowering Consumers to Make Smarter Healthcare Choices, Hires CPR Strategic Marketing Communications for National Campaign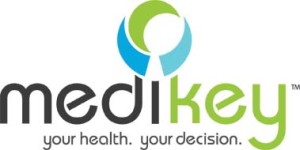 Media Contact:
Joelle Caputa
CPR Communications
jcaputa@cpronline.com
201.641.1911 x 54
FOR IMMEDIATE RELEASE
Medikey™, Empowering Consumers to Make Smarter Healthcare Choices, Hires CPR Strategic Marketing Communications for National Campaign  
Colorado Springs, CO. / Elmwood Park, NJ  – December 9, 2015 – Medikey™, a health data aggregator that empowers consumers and employers to take greater control over healthcare costs, has chosen CPR Strategic Marketing Communications (CPR), a leader in strategic marketing communication for the healthcare, life sciences and technology industries, to market its tools and services. Designed to give consumers and employers direct access to convenient, non-emergency care, the Medikey™ program connects members with board-certified physicians, nurses, psychologists, pharmacists, dentists and fitness experts for $50 a year.
"Because of our unique retail and online digital channel partnerships — which connect to millions of Americans nationwide — underinsured/uninsured consumers can now access affordable care," says Joe Truscelli, founder and CEO, Medikey™. "Given its extensive healthcare knowledge and experience, CPR is uniquely qualified to help us reach the consumer and employer market."
In partnership with eDocAmerica and Teladoc, the MediKey™ program enables consumers to email a physician and get a response within 24 hours at no charge. A $45 co-pay allows card holders to talk with a Teladoc physician via mobile devices, the Internet, secure video and phone, and receive a personal response within an average of 10 minutes.
Joseph Carabello, president and CEO, CPR, says "We look forward to helping bring MediKey™ to more Americans. This timely and unique offering makes access to care convenient for consumers and enhances employer healthcare reward and incentive programs."
About Medikey™
Medikey™ is a healthcare data aggregator providing consumers, third party administrators (TPAs), self-insured employers and insurance companies an online search engine for exact healthcare pricing and purchasing. Medikey™ enables smarter healthcare choices and cost savings with HIPAA-compliant technology. Visit www.YourMedikey.com, Facebook, Twitter.
About CPR Strategic Marketing Communications
CPR creates powerful, integrated, strategic marketing and communications plans for today's aggressive media world. Our proactive campaigns launch products and services, attract clients and elevate awareness, filtering external factors, identifying internal forces and unleashing our clients' full potential. Headquartered in Elmwood Park, N.J., CPR has served publicly traded companies, privately held entities and not-for-profit organizations since 1981. Visit  www.cpronline.com, Facebook, Twitter, LinkedIn, or e-mail pr@cpronline.com, or call 201-641-1911, ext. 50.