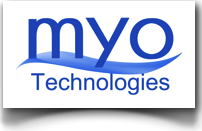 Media Contact:
CPR for Myo Technologies, Inc.
Joelle Caputa
jcaputa@cpronline.com
201-641-1911 x54

FOR IMMEDIATE RELEASE
Medical Doctors and Skincare Specialists Choose MyoMed® Microcurrent Device & Skin Care Products for Youth Preservation
World-renowned plastic surgeon Michael Fiorillo, MD and other anti-aging specialists pair MyoMed® with injectable and topical regimens to promote healing and improve penetration of serums, biologicals
WILMINGTON, N.C. – September 5, 2013 – MyoTechnologies, Inc., provider of Myotonology®, the only U.S. patented, totally non-invasive microcurrent skin toning treatment that stimulates the muscles and skin to reduce visible signs of aging, announces that its MyoMed® Medical & Professional Microcurrent Skin Care System  is the leading choice among plastic surgeons, dermatologists, estheticians and Complementary and Alternative (CAM) providers in private offices and medical spas. World-renowned plastic surgeon Michael A. Fiorillo, M.D., FACS, who specializes in reconstructive procedures for patients needing cosmetic surgery repair, pairs MyoMed® with injectable and topical regimens, enabling more efficient penetration of medical serums, resolving pre- and post-surgery edema and swelling, and improving healing times.
"Myotonology® technology and therapy regimes deliver immediate, well-documented results for increased circulation, collagen build-up, greater oxygen supplies to the muscles, and a healthier, younger appearance for men and women alike," says Dr. Fiorillo, who has served as a plastic surgery expert on "Fox News," "Good Morning America," "The Doctors," and "The View." "Unlike other microcurrent technology, Myotonology isolates specific facial muscles to achieve stunning results."
Setting the new gold standard in youth preservation, MyoMed® complements numerous cosmetic procedures, enabling plastic surgeons as well as estheticians and other skincare professionals to customize a program based upon individual client needs.
Elizabeth Logan, CEO of Myo Technologies, Inc., adds, "No other microcurrent company offers a professional-grade device that delivers these extraordinary results. This technology enables medical and skincare professionals to attract new clients and extend patient loyalty, while giving consumers the opportunity to revitalize their appearance on a continuous basis."
About Myo Technologies, Inc.
Myo Technologies, Inc. developed Myotonology®, the only U.S. patented, microcurrent skin toning treatment, and Myo Essentials®, a hypoallergenic, botanical skin care product line. Produced exclusively in the U.S., the entire product line is designed for use in medical practices and wellness centers. Clients benefit from an affordable, non-surgical approach to skin rejuvenation with diminished scars, younger more toned and refreshed skin. Contact: www.MYOINC.com or 877.969.2811.