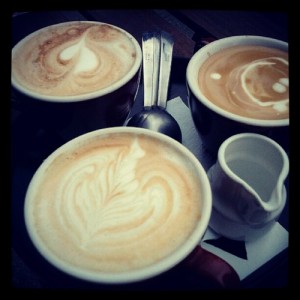 Starbucks has played a dominant role in business for quite some time and is accomplishing the same task in a digital sense. Starbucks uses social media as an extension of their culture by creating relationships with new consumers and strengthening bonds with returning ones. This idea, of always having the consumer in mind, is a proven formula, considering Starbucks was ranked "most loved" by a survey done by CBS. Social media is the extra arm working to keep customers happy and Starbucks as an overall juggernaut. Here are some ways Starbucks is successfully engaging consumers:
Super Influencers: They don't focus on simply sky-rocketing their numbers with new followers. Starbucks offers their followers a chance to establish an actual relationship with the brand by engaging and emphasizing on customer service.
Encourages Sharing: They roll out promotions to keep customers happy and sharing their experiences. When Starbucks offers a new promotion, customers are willing to share these promotions on multiple platforms.
Customized Experience: They have a unique rewards program where consumers can create personalized drinks and earn points. They also encourage consumers to share posts on Instagram and Pinterest.
Supporting Causes: They support causes in ways that will matter to the consumer and benefit everyone.
Cross-platform: Starbucks does not stick to one single script. They make sure to post across all digital platforms to create a unified voice and vision of the company
Making it Count: Starbucks mission statement is to "inspire and nurture the human spirit – one person, one cup and one neighborhood at a time." By not focusing on the development of the company, but the consumer, the brand builds loyalty and a strong online presence.