By Melissa Healion, Public Relations Assistant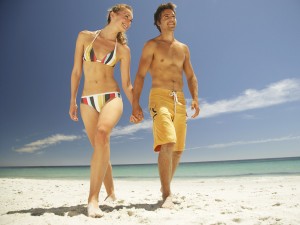 With bikini season underway here are some quick tips on how to stay in shape!
Plan your meals. Stir in a little organization to your weekly meals by planning them in advance before you go to the supermarket. If you plan you're more likely to keep your waistline in check and get better value for money: saving pounds all around!
Two snacks max! Rather than ban snacks, introduce a two snack rule. Once you are finished return the snacks to a cupboard so that they are out of sight and out of mind.
Telly-toning. If you cannot tear yourself away from your favorite T.V. show, work out while you watch. If this makes you afraid you will miss something important then exercise during the ad breaks, you could do 20 minutes during a feature film, and not miss a thing!
Chew that food. When food isn't chewed thoroughly, the saliva's enzymes don't come into contact with it for long enough to begin the digestive process resulting in bloating and indigestion. So make sure you are actually taking the time to chew each bite.
Simple swaps. When dining out don't be afraid to request small changes to your order, such as asking for salad dressing on the side. Additionally, fill up on healthy side orders such as salad and veggies instead of unhealthy choices such as French fries.
Turn housework into a work out. Housework might seem boring, but it is a good way to burn calories, let off steam that could convert to stress and exercise your whole body without a trip to the gym.
As always, it is important to remember to stay hydrated and maintain a well-balanced diet.