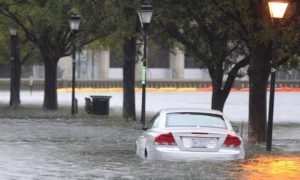 Looking for a new car? Car shopping just became even harder as the months have passed from Hurricane Sandy. People need to be aware that according to the National Insurance Crime Bureau, an estimated 230,000 cars were damaged from Sandy. Some vehicles are dried out and cleaned up to look as if they never had any water damage at all, which is how some dealers and individuals are trying to get away with selling these internally damaged cars. Water damage causes malfunctions of the air bags, complications with the anti- lock brake system, and problems for the electrical and computer system.
As a buyer, I would recommend receiving CARFAX. This company provides vehicle history reports which is extremely important on any vehicle, but will most definitely come in handy with the situation of flooding. Especially during a time like this, buyers should look for a stamp that would say flood or salvage. A vin number on a vehicle is the equivalent to a human's social security card; their identity. You can always have anyone in the automobile business look up that vin number to see if any flood damage has occurred. Below are some key signs that will help a car shopper avoid the wrong buy:
A fishy, funky, and unpleasant odor. This is an easy sign that can tell it has been submerged, or the overuse of deodorizers to keep the funky smell from being detected.
Lights and/or gages on the dashboard do not work properly.
Mold or mildew visible.
Peeling of carpet, the feeling of water or residue underneath the carpet.
Take out the spare tire in the trunk, often a forgotten part where water can be trapped underneath.
Rust on any screws, door hinges, brackets, or hood springs. This will lead to corrosion.
Look at the quality of the carpet and upholstery. Compare it to the year of the vehicle.
Always test drive.
Check all the lights on the exterior of the car, if there is foggy haze or residue inside.
Always contact a mechanic to inspect the vehicle if you feel uncertain.