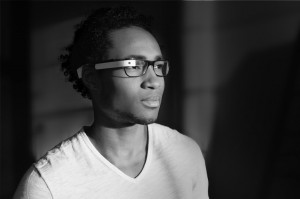 As usual, internet heavyweight, Google is flipping the script with its new product, Google Glass. Google Glass is a wearable pair of glasses that also functions as a multi faceted working computer. This product will allow you to send emails, take pictures & videos, translate messages, and use the Google search engine among many other features all from the frames you are wearing.  It sounds like a gadget out of an old spy movie but this is in fact a real product on the market. Google Glass costs $1,500 for a pair but with proper momentum, it has the ability to drastically change the way we share media; which of course will have an effect on the way messages are distributed in public relations.
Among the possibilities of this high tech device, is the opportunity to capitalize on augmented reality as a way to deliver key points and messages. Right now, augmented reality is generally a marketing tool used to alter what you are seeing to push a product. It has had some success through phones and other devices but has never seemed to hit the nail directly on the head. By infusing AR into a product that you are already wearing, it'll make it easier to interact with brands or products and become a part of the message in an innovative way.
Google+ will also benefit if Google Glass becomes popular because the social network will be integrated with the product. Sharing content gathered through the Glass will be most compatible with Google+ which will cause a spike in users if the Glass becomes popular.
One of the most impressive features on the Glass is the ability to record from a first person point of view. This could change the way we pitch to journalists given the quick accessibility the Glass provides. Journalists could expect a clear visual on what it is they might want to include in their publication.