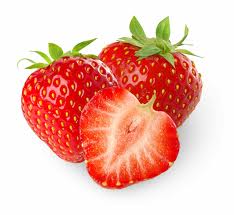 Dessert doesn't have to be an irresistible temptation that leaves you feeling guilty. Next time you're craving sugar, grab some heart-healthy strawberries and dip them in yogurt or chocolate (or eat them on their own!) for an easy snack that satisfies both your sweet tooth and your doctor!
Here are some health benefits of strawberries:
1. Strawberries are shown to reduce the risk of heart attack among younger women.
2. The cardiovascular benefits of strawberries include positive impacts on cholesterol, inflammation, and blood pressure.
3. Adding strawberries to your diet is shown to improve brain function and boost short-term memory.
4. Eating strawberries in the early stages of pregnancy promotes healthy development of your baby's brain.
5. Strawberries help prevent cataracts, while strengthening the eye's cornea and retina.
6. One cup of strawberries provides more vitamin C than a whole orange!
7. Strawberries are a low-calorie, fat-free snack that help you maintain and lose weight.
8. Eating strawberries improves oral health by protecting against plaque, gum disease, and tooth decay.
9. Strawberries help prevent wrinkles by improving your skin's elasticity and resilience.
10. The biotin in strawberries is shown to help build strong nails and bones.