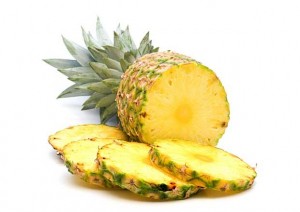 Wishing that the holiday weekend was longer? The vibrant tropical flavor of pineapples will make you feel like you're back on the beach. But don't let its scaly exterior fool you – pineapples are actually very sweet!
Here are some health benefits of pineapples:
1. Pineapples are high in fiber but low in calories, sodium, saturated fats, and cholesterol, making it a great weight loss snack.
2. Regular consumption of pineapples helps fight indigestion, and can be used as a natural detox.
3. Feel better faster! Eating pineapples suppresses your cough and loosens mucus to help you fight off your cold.
4. The high level of manganese in pineapples helps build and maintain strong bones, and its anti-inflammatory qualities help relieve the pain of arthritis.
5. Eating pineapples strengthens gums and prevents plaque, keeping teeth healthy and strong.
6. Pineapples are shown to protect against macular degeneration and other eye problems.
7. Apply crushed pineapple to your feet for 10 minutes to help smooth rough skin and calluses.
8. Blend pineapple to create a face mask that relieves dullness and dryness caused by dead skin cells.