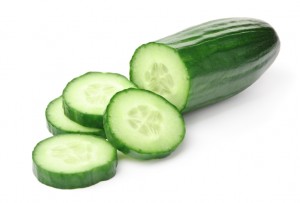 Almost all of your daily nutrients are found in cucumbers, including calcium, folate, niacin, sodium, iron, magnesium, phosphorus, potassium, zinc, and vitamins A, B, C, D, E, and K. But this fruit has more to offer than its nutritional value!
Here are a few health benefits of cucumbers:
1. Cucumber skin can be used to treat skin irritations and sunburns.
2. Drinking cucumber juice can improve your complexion by naturally hydrating and nourishing skin.
3. Place thick cucumber slices over your eyes for 10 to 15 minutes to reduce puffiness.
4. Rub a slice of cucumber on problem areas for a few minutes to decrease the visibility of cellulite or wrinkles.
5. The high water content and dietary fiber in cucumbers aid digestion, and its low calorie content is ideal for weight loss.
6. Too much wine at dinner? Eat half of a cucumber before bed to replenish the nutrients in your body and prevent a hangover.
7. Add some cucumber to your water or use your tongue to hold a slice to the roof of your mouth for 30 seconds to eliminate bad breath.
8. Cucumbers are a great pick-me-up in the afternoon, with healthier and longer-lasting benefits than soda or coffee.
9. Cucumbers are the cheapest spa treatment around! Slice up a cucumber into a boiling pot of water to create a soothing aroma that is shown to help reduce stress.
10. Cucumbers are shown to help regulate blood pressure and lower cholesterol.
11. Daily consumption of cucumbers is shown to relieve chronic constipation.