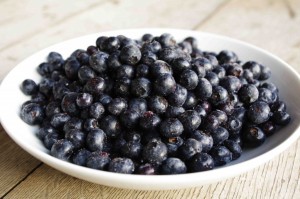 Nothing says summer quite like picking your own blueberries with family or friends! New Jersey ranks second in blueberry production throughout the country, with a peak period from July to August.
Here are a few health benefits of blueberries:
1. The anthocyanins in blueberries neutralize free radicals that cause cancer and help block tumor cells from forming.
2. Blueberries are shown to help regulate blood sugar and cholesterol levels.
3. Women who eat blueberries are at a lower risk of heart disease.
4. Adding blueberries to your diet is shown to help protect against hypertension.
5. The manganese content in blueberries plays an important role in bone development.
6. Blueberries are shown to help prevent and treat urinary tract infections.
7. Eating blueberries protects your eyes and reduces your risk of macular degeneration.
8. Blueberries are rich in antioxidants, which help reverse the signs of age-related memory loss.
9. One cup of blueberries is only 80 calories, and is a tasty way to help break down belly fat.
10. Just a handful of blueberries is enough to satisfy your daily fiber requirement!
11. Apply a mask of puréed blueberries to your face for softer, smoother skin.