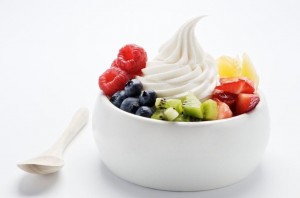 Commonly known as "Froyo," this delicious treat is simply irresistible. Frozen yogurt is a healthier, more popular choice of dessert. Depending on what toppings you decide to indulge in, froyo never leaves you disappointed with its countless flavors and refreshing taste.
With that said, many people do not understand why this is a healthier alternative to ice cream. The main difference is frozen yogurt does not contain cream — it is made with cultured milk such as yogurt. Ice cream does have cream and can contains as much as 16 percent milk fat.
If you are on a strict diet and watching your fat intake, frozen yogurt would be the better choice. A cup of vanilla frozen yogurt with no toppings can be anywhere from 120-200 calories, while one cup of vanilla ice cream can usually be around 300 calories. Luckily frozen yogurt does offer sugar free flavors like vanilla and chocolate. It's important to still keep in mind the serving size.  While froyo is fat free, it's not calorie free.
Frozen yogurt gives customers options that you may not have with ice cream. You have the option to choose a sugar free flavor, and then add whatever toppings like Oreos, sprinkles, cookie dough, and M&M's. It's in your hands to decide how healthy or unhealthy you want your cup to be.
Be careful when you choose to eat frozen yogurt. Since most frozen yogurt places are self serve, it can be tempting to fill up your entire cup with the flavor you choose. But the good thing is you have options. You can sprinkle some granola and fresh fruit on your vanilla frozen yogurt and if you're feeling careless you can add numerous chocolate items on your cheesecake flavor. Whatever you decide, using healthier toppings will not only be lower in calories, fat and sugar, but also provide you with protein and fiber.
Frozen yogurt is a delicious, tasty, and a refreshing treat at anytime of the day! So go out, and grab a cup. You won't regret it!
Enjoy your cup of fresh frozen yogurt at some of the following locations: CUPS, 16 Handles, Red Mango, and many more!