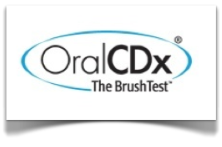 Media Contact:
Jessica Day
201-641-1911 ext: 35
FOR IMMEDIATE RELEASE

ENT and Allergy Associates® Cite Role of Quick, Non-Invasive Test to Find Unhealthy Cells Before They Can Become Cancer
Oral Cancer Awareness Month – April 2012
Westchester, N.Y. – April 1, 2012 – In recognition of April 2012, the 13th annual National Oral Cancer Awareness Month, ENT and Allergy Associates, LLP (ENTA), the largest ear, nose, throat, allergy and audiology practice in the tri-state area, is raising public awareness of oral cancer and how it can be prevented with the combination of a simple self-exam and the OralCDx® BrushTest®, a quick, accurate and non-invasive test of common oral spots.
"Oral cancer kills about as many Americans as melanoma skin cancer and is rapidly rising in women, young people and non-smokers," explains Dr. Adrianna Hekiert of ENTA's Somerville, N.J. office. "In order to reverse this trend, patients should examine their mouths periodically and let us know if they see or feel with their tongue any unexplained spots or changes. These are usually painless and can be as small as a sesame seed."
The OralCDx® BrushTest®, a covered benefit under virtually all medical insurance, allows ENT physicians to rule out pre-cancer and cancer by quickly and painlessly testing these common oral spots for precancerous cells. In the vast majority of cases any abnormality found by the BrushTest is still harmless because it was caught in time. This not only gives patients greater peace of mind, but it's also a critical step toward putting an end to this devastating disease.
Physicians in many of the ENTA offices are now trained to administer the OralCDx® BrushTest® to detect unhealthy cells before they can cause any harm, creating the potential to place oral cancer on the short list of preventable cancers such as skin, colon and cervical cancer. ENTA offices, which feature state-of-the-art care for a variety of highly specialized procedures that utilize the latest medical technology, are conveniently located in over 16 counties and boroughs in New York and New Jersey, including Westchester, Putnam, Orange, Rockland, Dutchess, Manhattan, Bronx, Queens, Brooklyn, Staten Island, Nassau, Suffolk, Bergen, Passaic, Morris, Hudson, Somerset and Middlesex.
About ENT and Allergy Associates
Each of ENT and Allergy Associates' 36 clinical locations provides access to a full complement of services, including General Adult and Pediatric ENT, Voice and Swallowing, Facial Plastics and Reconstructive Surgery, Disorders of the Inner Ear and Dizziness, Asthma, Clinical Immunology, Diagnostic Audiology, Hearing Aid dispensing, Sleep and CT services. Visit www.entandallergy.com for more information. The practice has a clinical alliance with The Mount Sinai Hospital for the treatment of diseases of the head and neck and a partnership with the American Cancer Society to educate and treat patients with smoking disorders and cancer. The Practice has also expanded its clinical capabilities to include advanced Immunodeficiency trials.
About OralCDx® BrushTest®
OralCDx® BrushTest® is an easy, painless and definitive way for doctors to test the common small white and red oral spots that most people have in their mouth at one time or another. The BrushTest is used to determine if a common oral spot contains abnormal cells (known as dysplasia) that, if left alone for several years, may develop into oral cancer. The OralCDx BrushTest is the oral brush biopsy, and the ONLY non-invasive test for oral pre-cancer and cancer. OralCDx® is part of CDx Diagnostics™.
###