Alternative Apparel designs clothing that not only looks great, but feels great. The rayon used comes from the cellulose plant, which is a sustainable source of raw materials. Alternative Apparel is motivated with goals to not only be a successful clothing brand, but help out the environment as well. Today, AA gives a portion of sales to assist charities and organizations.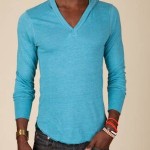 In 2007, AA came out with an Alternative Earth line. This collection includes all eco-friendly clothing that consists of recycled polyester and organic cotton. Natural wash methods with biodegradable fabric softener, low impact dyes, and natural enzymes for finishing are included for the after-care process. Not only does AA want clothing that is comfortable and eco-friendly, but to maintain the fabulous look after washing.
Alternative Apparel can be purchased at www.alternativeapparel.com, Nordstrom, Macy's, Century21, Loehmanns, and www.karmaloop.com. Below are some additional facts about the brand that show how deeply involved they are in the eco-friendly movement:
–        The dyes used are often tested to reassure no toxins are found.
–        Organic cotton is produced pesticide free.
–        Eco-Heather and Eco-Fleece fabrics are created by knitting organic compound with recycled polyester and rayon.
–        Eco-friendly polyester is created from used bottles that are compressed into tiny flakes, pressed into a fiber, and infused into threads.
–        AA's cotton is certified organic.