When visiting a beauty supply shop, the amount of products available can be overwhelming to choose from. That feeling heightens as you look at the ingredients in each lotion, powder or liquid – the names sound foreign! Is it safe to continuously use products that contain a plethora of unknown chemicals? Do they really help achieve the results you're looking for? Actually, many of these expensive products can be made in natural, eco-friendly ways in your own home. You'd be surprised how much you can save by opting to get creative with your own beauty regimen. For instance, here are a few examples of easy and useful do-it-yourself (DIY) projects:
Many makeup removers bought at the store contain alcohol and can burn sensitive skin. Trade in your remover for this simply recipe. Mix a tablespoon of extra virgin olive oil with canola oil and dab with a cotton ball. Wipe your eyes and see the makeup easily come off without any irritation.
This DIY beauty project is fun and thrifty! Nix your habit of splurging on $8 bottles of nail polish and create your own original colors. Grab a bottle of clear polish and any powder eye shadow. Scoop the eyeshadow into a bowl and crush up any large chunks. Add about 30 drops of clear polish into the bowl and mix well with a toothpick. Immediately paint nails to prevent the formula from drying. You'll have a unique hue on your fingernails in no time. If you're feeling extra crafty, come up with a fun name for your new shade!
Scrubs are great for your face and entire body. Instead of buying an expensive jar, open up your kitchen cabinets for this quick alternative. Grind up some walnuts and combine with oatmeal. Mix well and massage your face in gentle circles. The natural particles will help revive skin and result in a soft, smooth texture.
An effective hair mask is beneficial to your locks in a number of ways. Adding this step to your weekly routine can help prevent dry, brittle strands. For this DIY beauty product, purchase avocado oil and coconut oil from a local health food store. Combine two tablespoons of avocado oil with two tablespoons of coconut oil in a bowl or mug. Pop the liquid into the microwave for about 30 seconds and immediately comb through dry hair. Let the formula sit for 10 minutes and then rinse thoroughly in the shower. You'll notice your hair feeling softer and looking shinier after just one use.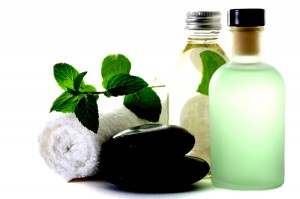 These are just a few of the endless ways to save a dollar and go green with DIY beauty products. Test a few out – you'll be surprised to see how something so natural or inexpensive can be so effective!