By Melissa Healion, Public Relations Assistant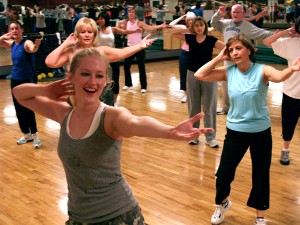 Do you ever notice how sore your body feels after a night out dancing at a bar, club or a friend's party? That is because while you may not even realize it, you are actually giving your body a work out!
My best friend is a certified Zumba instructor and recently began holding her own classes at a local gym. Complaining of not being in the mood to go on my mundane run last night, she encouraged me to attend her night class. I obliged and by the end of it, my whole body truly thanked me.
Zumba, a Colombian dance fitness program created by dancer and choreographer Alberto "Beto" Perez during the 1990s, is a calorie-burning dance fitness-party that's moving millions of people toward joy and good health.
Zumba seems to efficiently touch on nearly every muscle and joint. It is fun-packed with warm-up exercises, targeted attention for your core, leg strengthening moves and of course a cool-down. Each class is intended to provide a large calorie burn through aerobic activity done with interval training in mind. On average, a person can burn between 400 to 600 calories per hour!
Zumba is taught in gyms and studios all over the world to millions of Zumba enthusiasts. I truly believe everyone should try it regardless of age or gender!