By Melissa Healion, Public Relations Assistant
Two years ago, when my parents first bought a seatbelt designed specifically for dogs, I thought they were simply crazy, over-bearing parents of our new dog. However, now I realize they were on the right track!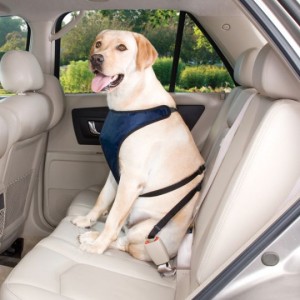 Just in time for the summer driving season, New Jersey is cracking down on pets riding in cars unrestrained. Under the new law pets can no longer hang their heads out the car windows, ride in the back of a truck, or curl up on a driver's lap as they drive. Drivers who fail to follow the "click it or ticket" for pets clause can receive fines ranging from $250 to $1000 per incident as well as the possibility of facing up to six months in jail if their actions are repeated or dangerous to other drivers around them.
In a study conducted by AAA in 2010, 20% of the people said that they drove with unsecured pets in their vehicles and 31% of those people said it did in fact distract them while driving. Not only can an animal cause a driver to crash but they can also jump out of windows and cause sudden stops or accidents for other drivers on the road.
"You wouldn't put your child in the car unrestrained, so you shouldn't put your pet in the car unrestrained, either," said Col. Frank Rizzo, superintendent of the New Jersey Society for the Prevention of Cruelty to Animals (NJSPCA) at a Bergen County launch of this buckle-up campaign. "What people come to realize only too late is that animals act like flying missiles in an impact and cannot only hurt themselves but hurt their family members too."
Other states with pet driving laws include Arizona, Connecticut and Maine. It is likely that more states will follow this lead and enact similar laws in the future. Considering the safety concerns I feel this is a great new addition to the "Click It or Ticket" campaign. What do you think?
Sources
http://www.northjersey.com/news/158393175__Click_It_or_Ticket__adds_Fido__to_those_who_need_to_belt_in_.html