"If you run you stand a chance of losing, but if you don't run you've already lost."
-President Barack Obama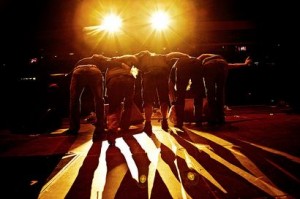 Today is the last day of my internship here at CPR, and I as I reflect about my experiences here I am reminded of the above quote. This semester, will conclude half of my sprint to the finish line (graduation) and the final internship experience for my academic career. Before interning at CPR, I thought about everything I had to learn about Public Relations that my previous internship had not taught me. I thought I was behind being that this is my second internship in my major and I would soon be receiving a degree in a field I knew somewhat about. Somewhat, was not enough and also would not get me a foot in the door as an entry-level Public Relations Specialist.
My first internship as a Public Officials Intern for the mayor and administrator of Franklin Lakes taught me administrative skills, sharpened my graphic/flyer design skills, learn more website tricks, how to work as a part of a team, and how to work off a budget. All of these skills had very little to do with actual PR work though. So when I took on the offer to intern with CPR I was looking for a crash course in real life public relations. I am pleased to say many of my expectations were met.
Like at Franklin Lakes, the vibe of CPR is very relaxed and heavy work load is not given every day, some days I would just write blogs and compile media lists. Other days I might have to draft a pitch, email pitches to potential clients, work on a spreadsheet of information and complete whatever else was assigned to me. Before this internship the above mentioned skills I could not perform. Interning here taught me those skills but also how to use CisionPoint (an important part of any PR firm), how to draft an official press release, and how the daily operation of a mostly healthcare Public Relations firm is ran.
So yes, overall my experience was great. I still have some other things to learn that were not covered here but I can say CPR built the foundation. Obama-minded, I ran at the opportunity to intern here knowing that I could fail.  Seeing that I didn't, the growth I've made in my intended field of work, still interning through the obstacles of my crazy senior year life, and trying again even if I didn't do a task assigned correctly the first time has made this experience even more worthwhile. Even though I still have a lot more to learn that wasn't covered in my time here, I now feel comfortable to not only apply for some entry level positions but I also have a amazing portfolio to show off as well.
Before I end my finale blog, I want to say thank you to Katelyn Petersen and Joelle Caputa.  I worked closet with you two; you have helped me acquire the skills that were missing and I am forever grateful for the opportunity you gave me to intern here.  To everyone at CPR it was my pleasure meeting you and good luck with all your future endeavors.