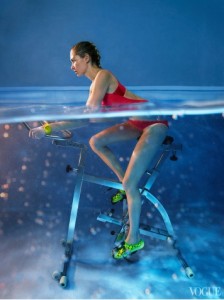 Instead of throwing on your regular shorts and t-shirt before going to the gym, you can now toss on a bathing suit and enjoy a challenging ride on the new, underwater workout called Aqua Cycling. Located in the upscale fancy area of Tribeca, New York City, Aqua is a chic fitness club that offers this new form of exercise to anyone who is a member.
With a maximum capacity of 15 guests, Aqua Cycling offers a difficult, yet enjoyable 45 minute workout in the water, allowing the mind and body to use their muscles in a different way. Burning hundreds of calories, experiencing a new workout scene, and relieving heavy impact on your joints, are the few reasons why this sport is not only becoming more popular, but also demanding.
When running on the treadmill at the gym your allowing your body room for injuries, either in your shins or even creating soreness in your legs for the next few weeks. Aqua Cycling guarantees that the day after your first class, you will not be sore because your body is exercising in water, preventing any joints, muscles, or bones to be impacted.
Cycling in water is an excellent, efficient way to burn calories fast depending on the speed of your instructor. When pedaling on the bike, the water increases the amount of pressure on the legs which results in building muscle and making your body stronger. Most of the time, during an intense session, your body is unable to even feel itself sweating because of all the water. Like any other workout, you feel stronger, and accomplished after attending an Aqua cycling class.
Instead of doing the same routine everyday at the gym, this new way of exercising is an entertaining way to meeting new people in a completely different scene. Without breaking your bank, Aqua Cycling runs roughly around $40 dollars per class and rates can be anywhere from $190-$900 depending on how many sessions you choose to buy.
If you're sick of your ordinary gym scene and want to try something new and creative, Aqua Cycling can be your type of workout. With an amazing location like Tribeca, you'll feel motivated to go with all your friends, and be able to enjoy some delicious treats like juices or smoothies just steps away from the studio.