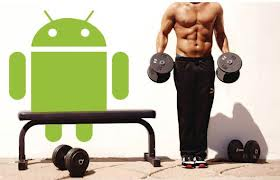 Winter may be coming in the new season of Game of Throne, but not here! Warm weather is finally upon us and now we can have fun in the outdoors after a brutal winter.  The snow and ice made it impossible to run or do anything. Spring is the perfect weather to exercise in because it is not hot or too cold. Plus, the rain can be refreshing! This season is when people are making final touches on their body and mind before summer hits. Nobody wants to look like they stuffed their face during the holidays (Don't I worry, I was very guilty of this!), especially when you have to go to the beach with your buddies. Now, it is not always easy to find the right diet or exercise routine and quite frankly, beginners get discouraged when they don't feel the results of training. This is where technology can be our best friend this season.
With the invention of Smartphone's, it has made easier to track ones diet and exercise program. Numerous applications have emerged to help shed some pounds and stay relatively healthy. Tracking your running path and making healthy recipes are the perks of some of the app found on the store. For Android users, the Google Play store has some great health and fitness applications that are free. Here are some of the best and most popular free applications.
The health and fitness applications mentioned are only a fraction of what can be found on the Google Play store. Furthermore these applications are free to download and some of them come with a premium service. It is up to you to decide what application is right for you! Good luck when using some of the applications and I hope you have a great time this season with your training. Hopefully the results your training will show with your perseverance!