By Melissa Healion, Public Relations Assistant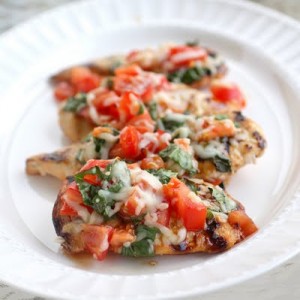 This healthy meal is easy to cook (involves only five ingredients) and is merely 200 calories. It is bursting with all the flavors of delicious bruschetta minus the bread and the carbs!
The ingredients are:
4 small boneless skinless chicken breast halves
½ cup KRAFT Sun-Dried Tomato dressing, divided
2 tomatoes, finely chopped
½ cup shredded part-skim mozzarella cheese
¼ cup chopped fresh basil or 1 tsp. dried basil leaves
Begin by placing a large sheet of heavy-duty foil over half of your grill grate; heat grill to medium heat.
Meanwhile, place chicken breasts in a re-sealable plastic bag with ¼ cup of dressing and seal bag. Turn the bag several times to ensure that the chicken is entirely coated. (Sometimes I even let the chicken marinate overnight or during the day while I am at work so that it truly soaks up the dressing!) Refrigerate for 10 minutes.
Combine the remaining ¼ dressing, tomatoes, cheese and basil.
Once the chicken is fully marinated, remove the chicken from the bag; discard bag and dressing. Grill chicken on uncovered side of grill for approximately 6 minutes. Turn the chicken over and place the cooked-side up, on foil side of the grill. Top with the tomato mixture and close the lid of the grill for 8 minutes or until the chicken is fully cooked.
Remove the chicken from the grill and serve. If you want to add a little more to the already mouth-watering flavor try a splash of balsamic vinegar! The chicken will taste so good you won't be able to wait to make it again.
TIP: Pair with a small side salad (use a mixture of lemon, olive oil and balsamic vinegar for the dressing).