5 Tips to Make 2018 Your Best Year Yet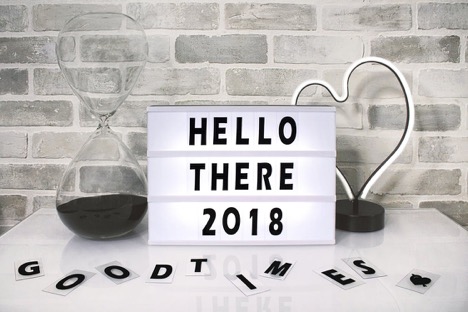 The new year is a great way to move forward in a positive direction, leaving unhealthy habits and negativity in the past. Here are some helpful tips and insights to make sure you have the most positive and productive year yet.
Set and Monitor Goals
We are all guilty of saying we are going to do something and then not, especially when it comes to goals.  Get yourself organized and write down your 2018 goals, and how you are going to achieve them. For example, thinking about taking a vacation but do not have the funds? Set up a budget and put money aside weekly or monthly so when it's time, you can take that cruise you've been dreaming about!
Helpful Tip – Get yourself a planner to keep your goals organized.
Get on a Routine
A healthy lifestyle comes with a routine that will show a sense of stability and order. Having a routine can lead to improved mental health, more time to relax and less anxiety. Plan out your day and stick to it– this includes sleeping! A good quality rest can prepare you for a better tomorrow.
Helpful Tip – Meal prep your lunch for work so you don't spend extra time in the morning making it and you won't have to dish out extra cash for food.
Detox from Social Media
Are you tired of seeing fitness models, political posts and extravagant vacations from celebrities and social media influencers on your social media? Time to unfollow and unsubscribe from all of that nonsense. It's been proven that people compare themselves to others online, which can hurt self-esteem and self-image. Instead, focus on yourself and how great of a person you are, spend less time looking at your screen and more time with your family and friends!
Helpful Tip – Turn off your phone or leave it on do not disturb to avoid mindless social media browsing.
Volunteer Your Time
Giving your time to help others in need is one of the kindest things you can do. It practices mindfulness and helps spread more positivity and love into this world. Volunteering shows good character and can have a positive impact on someone's life, including your own!
Helpful Tip – Try to volunteer at a local animal shelter; dogs help reduce stress!
Take a Moment for Yourself Each Day
Life can be crazy and we sometimes lose ourselves in the moment. We don't take a second for ourselves because we have so much to do. This year, set aside a few minutes each day for yourself to simply relax, breathe and be grateful. This moment can be in the beginning, middle or at the end of your day. Sit in a comfortable position, close your eyes and breathe. This moment is about you– enjoy it!
Helpful Tip – Take this moment for yourself in a quiet location for maximum relaxation.