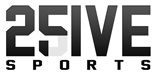 Media Contact:
Alexis Lignos
CPR Strategic Marketing Communications
201.641.1911 x52
FOR IMMEDIATE RELEASE
2Five Sports Founder and Two-Time Super Bowl Champion Mark Collins to Guest Coach Team USA Regional Development Camp, Monroe Township High School, June 8 – June 9, 2013
To register for the chance to develop both on and off the field, while being evaluated for the US National Team program, visit here 
Overland Park, KS – May 28, 2013 – 2Five Sports, the country's premier online sports recruiting service certified by the National Collegiate Athletic Association (NCAA), today announces that Mark Collins, founder of 2Five Sports, former American football cornerback and safety in the National Football League, and two-time Super Bowl champion for the New York Giants, will guest coach Team USA Regional Development Camp, Monroe Township High School, Monroe Township, N.J., June 8 – June 9, 2013. Collins will provide field training for athletes in grades 7 to 11, as well as character and leadership training off the field. In addition, athletes will receive a credible football evaluation from an NFL or college-caliber scout.
"I'm thrilled to take part in the Team USA camps program, and build upon our shared passion for developing the game, inspiring participation and ensuring a positive experience for young players," Collins said. "2Five Sports and its network of college coaching contacts and former professional athletes are driven to help future athletes reach their maximum potential."
2FiveSports connects industry leaders, recruiters and coaches with amateur athletes, who can post profiles, photographs, experience, statistics, grade point average and honors on the site.
Sponsored by USA Football, the official youth football development partner of the NFL, the Team USA Regional Development camps give athletes the chance to compete for a spot on the US National Team. This year, USA Football will launch an online evaluation tool for high school players that will utilize each athlete's football evaluation received at the camp.
"To succeed, students must not only be good athletes, they must also demonstrate academic ability in order to make the cut," Collins adds. "We strive to encourage students to always give 110 percent so that they can achieve their goals and obtain scholarships."
About 2Five Sports
2Five Sports has helped thousands of athletes connect with college coaches and universities by giving coaches the exact information needed. For more information visit www.2fivesports.com, Twitter, and Facebook.